Ethics...against Evolution?
Marmolada 1978 - 1982
Late in autumn 1978 we discovered that the Marmolada, compared to other Dolomite walls, still had plenty of untouched rock for new free-climbing routes. After completing a few first ascents here in a very minimalistic style, I agreed, somewhat reluctantly, to write articles about the routes for some climbing magazines. This caused a frenetic run in the ensuing years on the Marmolada's "last great problems," yet our "competitors" didn't care as much about style as we did. At first we shook off these "post-direttissima nail-bangers" with a contemptuous smirk, because in any event they didn't dare to challenge us on the beautiful blank walls, but instead sought out the unattractive crack systems. The situation began to change after the first ascent of the "Fish," an impressive demonstration of how well cliffhangers (hooks) and cams worked in the Marmolada's smooth, but pocketed walls. In this same period, the first sport climbers showed up looking for mountain big walls; they were "flatlanders with no mountain culture" who didn't give a shit about alpine climbing ethics or history.
Until then our alpine world had been "in order," but now I began to have second thoughts: Was it time to give up my longstanding convictions and to follow the sport climbers' model? Was it time to accept an evolution that could ultimately spell the end of traditional alpinism? Was it time to reconsider my refusal to use bolts in big walls? And would future big-wall climbing be just like sport climbing, with the routes prepared and worked from above, eliminating any risk?
To even consider such radical changes was blasphemy. While I could see the "threat," for the time being everything remained as it had been—the old way—and sport climbing's influence remained minimal. Stasis was maintained because on the one hand, sport climbing was mainly happening far from the mountains and hadn't reached the general public, and because on the other hand, alpinism was deeply rooted in an ultraconservative culture that defended itself stubbornly against the encroachment of new ideas. Even the younger generation, which I was part of, didn't give serious consideration to sport climbing as an end unto itself. After challenging ourselves for many years with risk as the essential barrier to entry, it was difficult to accept the thought of simply avoiding risk altogether and instead following a purely sport-oriented approach.
Nevertheless, soon enough the phrase "transfer sport climbing to the mountains" became the new mantra of the climbing magazines. While for me as a mountain climber that meant not only increasing the difficulty level but moreover the distance between protection points, thanks to better climbing fitness, for most climbers it meant transferring sport-climbing practices and ethics to the mountains, thus eliminating risk altogether.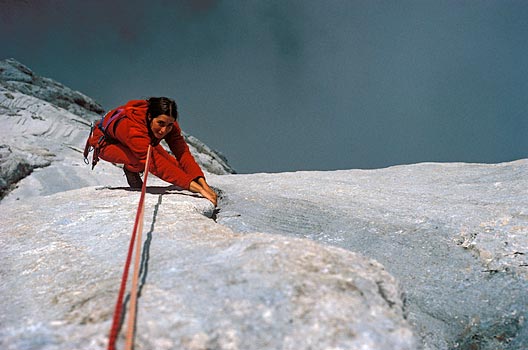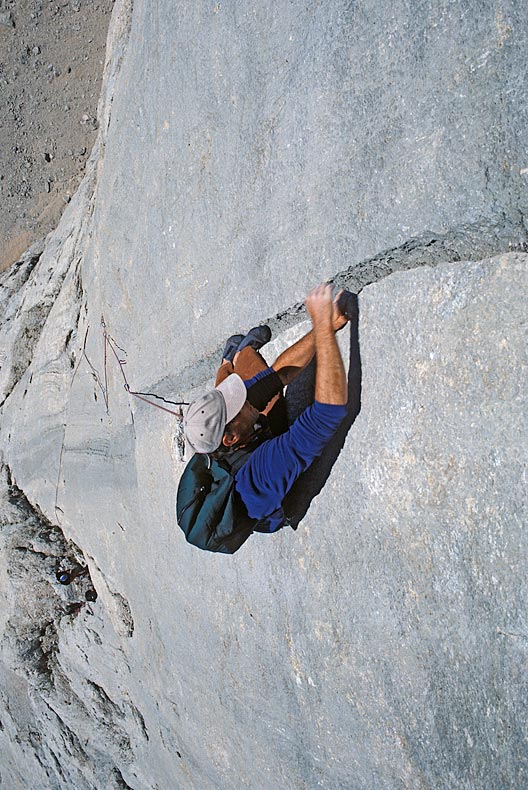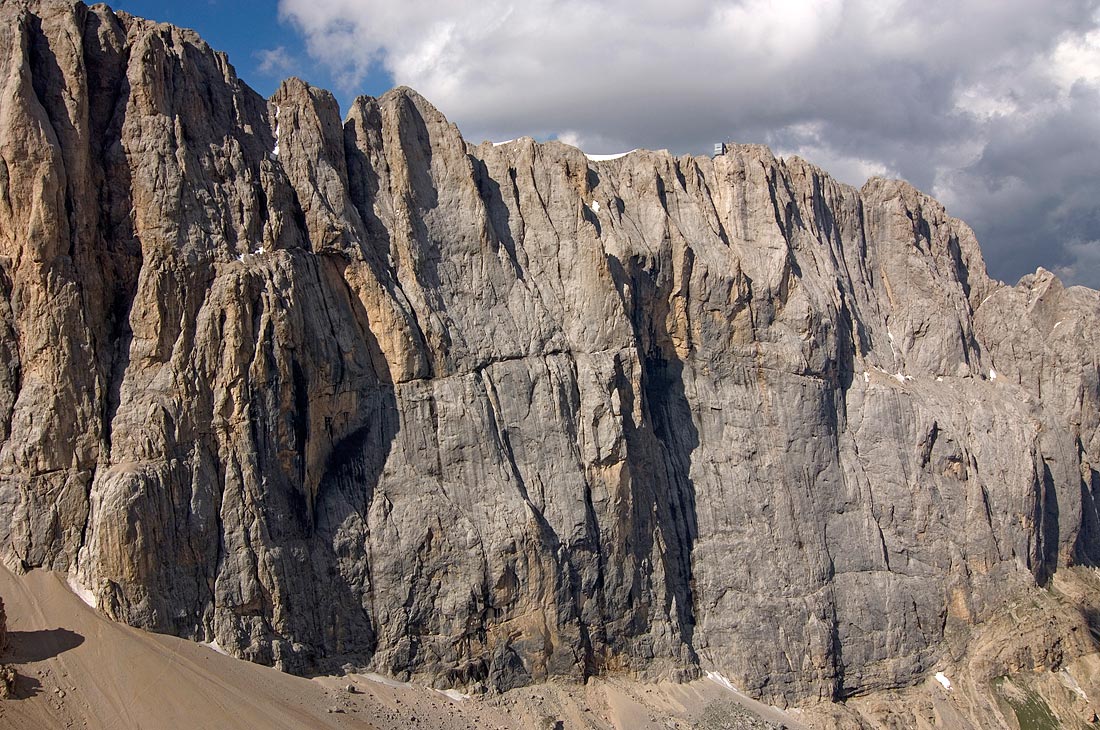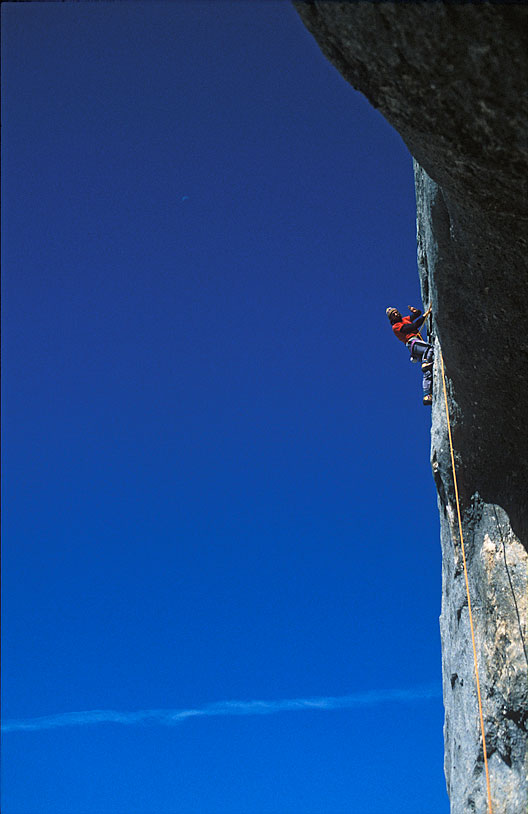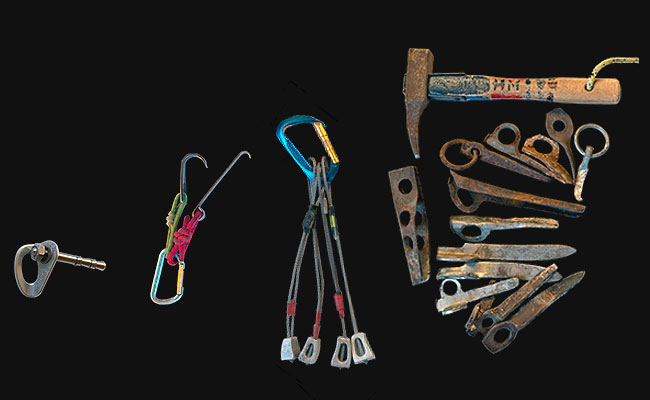 What is Evolution?
In 1980 I made two attempts on the smooth wall that later came to be called the "Fish." I was just back from Yosemite and deeply inspired by the strict free-climbing ethics I had encountered in the Valley. It was clear to me that compromising one's style was not an option. I climbed free on the Marmolada, refusing to aid or use hooks to place protection, reaching a point about twenty meters left of the "Fish-cave."
Rapping down, I was sure I would come back to try again, in better shape and more determined. But a year later Igor Koller and Indrich Sustr completed the climb before me. While they pioneered many sections of bold free-climbing, they also resorted to hooks and aid in many other spots. It was a praiseworthy ascent, but not what I had had in mind.
In 1981 I risked a fatal fall during the first ascent of "Abrakadabra," also on the Marmolada's south face. I had ventured into steep, loose rock far from my last piece of protection when a foothold unexpectedly broke. By some miracle, I held onto a small crimper while both of my feet swung off. For one terrible instant I hung by the fingertips of one hand, mobilizing a strength I'd never known I possessed. I had opted for the open wall instead of following a crack system with plenty of options for protection. It was my hardest and riskiest pitch on the Marmolada, but meaningless by alpine standards, because the nearby crack presented the logical route of ascent for future repeats.
"Modern Times" ("Moderne Zeiten") was my last new route on the Marmolada, in 1982. Subsequently, in sport climbing, I found more common ground with my personal climbing ethics than in the revival of conquest alpinism that was happening at the time. Meanwhile, my perception that only a strict redpoint style (including placing protection, and no preparation of any kind) would be appropriate for new routes on the Marmolada and other walls with significant history did not find widespread acceptance. 
In the years that followed, a dense web of routes covered the Marmolada. An unstoppable lust for conquest left had left its mark on the once-ignored wall, and yet higher free-climbing standards had failed to impose a better style.
The basic principle was not to do things in the best possible style, but instead one of fast and guaranteed success.
One impressive exception: that of my dear old friend and climbing partner Luggi Rieser, later called "Darshano," who for 12 years had been vying to finish his project on one of the wall's smoothest sectors. With Ingo Knapp, who even broke his leg in a long fall during one of the attempts, Darshano in 1995 climbed "Senkrecht ins Tao," probably the hardest route established on the Marmolada in minimalistic style (no bolts, no aid). Another bold climber who pushed the limits on the Marmolada was Roland Mittersteiner, perhaps the last real proponent of the minimalist climbing philosophy. Unfortunately, he had also sustained a bad ankle injury after a ground-fall on a new project. Risk made our game interesting, and crossing the line always was part of it—otherwise it wouldn't be called "risk." One has to know or feel how far one can go; and sometimes one goes beyond...