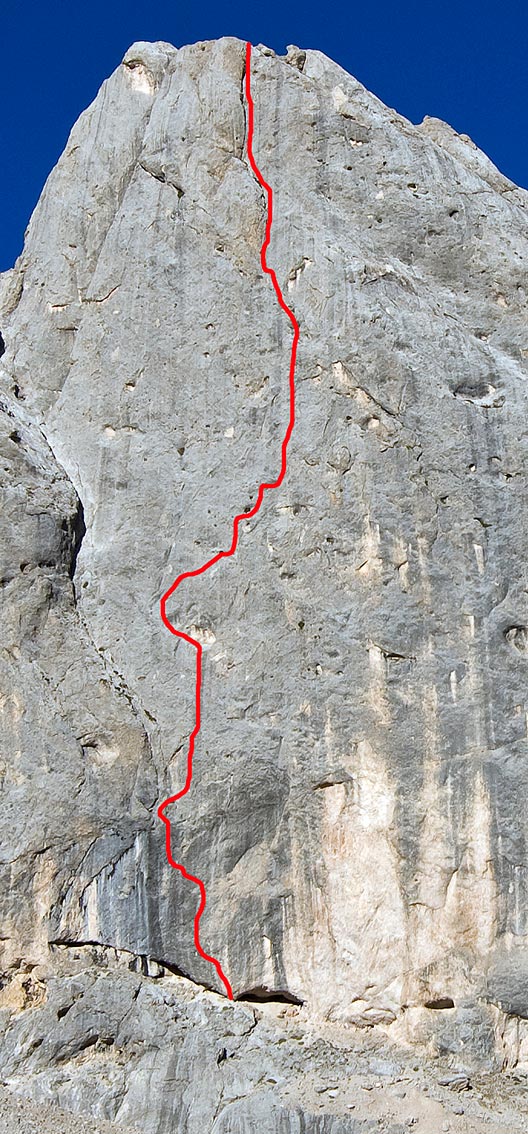 New style with respect...
Sasso delle Undici - summer 1986... a new perspective?
T he idea of establishing a sport route in the mountains, exploring it in free-climbing style from the bottom up and protecting it with bolts, was nothing new. Martin Scheel had pioneered this style in the Rätikon. In the Dolomites, it was a novelty. I opted for a wall with no alpine history, where you didn't have to respect an established ethic. The east face of Sasso delle Undici didn't have any existing routes and presented a perfect place to break my own rules. I had always been against bolts in the mountains, but could warm up to the idea of carefully selecting some areas as exceptions.
"Tempi Modernissimi" was an interesting experience, and the free-climbing difficulty exceeded anything I had done so far on a Dolomite big wall. However, I had to admit to myself that it was "sport climbing of the uncomfortable sort" and that it had nothing in common with classic Dolomite climbing. It was also clear to me that with this style everything would be possible—that it was going in the direction of "the murder of the impossible," as Reinhold Messner had so appropriately deemed it. I was still convinced that real evolution would only be possible without employing bolts.
Unfortunately, general development went the other way. Today, bolts are no longer a topic of discussion, and are used everywhere without hesitation. It seems that it's now even normal to approach mountain routes from the top down—one does not go to the bottom of the wall, but to the top, installing fixed ropes to work and prepare every single move for the final redpoint ascent. The old value system has been replaced by a new one, and everything that has heretofore characterized mountain climbing has become marginalized if not irrelevant. Today it's all about supergrades, about headlines and media interest. This hasn't made the climbing world more interesting; on the contrary, as an insider I have much less interest in the activities of public/media climbers than in those from the grassroots. There is nothing more beautiful than the enthusiasm of an uninfluenced and insignificant (at least, to the public) climber who climbs exclusively for himself.
The establishment will always try to rule, but I hope there will also always be outsiders and rebels who try to be different.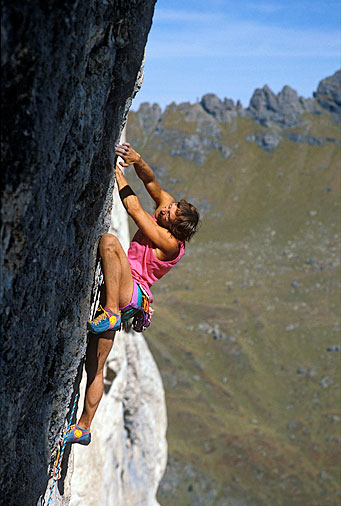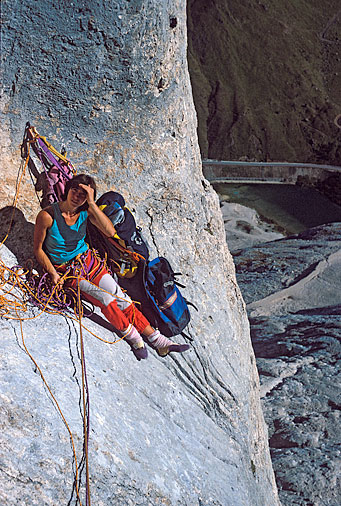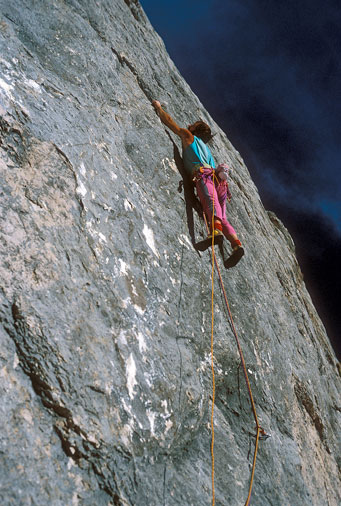 I'm definitely not proud of the pink pants and tanktop. Who dedicates himself to "pussyclimbing" seems to lose control about his own taste!
Back to the Stone Age?
Twenty-two years later we returned to the Sasso delle Undici. My fitness level was far below what it had been in 1986, but good enough for classic climbing. I recalled an attempt on the face with one of my closest friends during the Seventies, Reinhard Schiestl. We had failed on our proposed line because we lacked the determination required to climb an overhang with questionable protection. Compared to the Marmolada, the wall had seemed anyway quite insignificant, and I had little desire for another attempt. Though Reinhard tried the route one more time with another partner, they didn't get much farther than we had.
What inspired me about the line at this later date was the possibility of showing a reverse evolution, returning to a classic, bolt-free style. In addition, it was interesting to find out whether I was still capable of putting up a route with classic protection like in old times. I had no problem passing our high point from the Seventies right away. At least I hadn't completely forgotten how to deal with bad protection, and after all my years sport climbing I was in better shape than I'd been in when I was young, in the 1970s. The remainder of the route was interesting, yet nothing magnificent. It was simply fun to climb with ease into unknown terrain.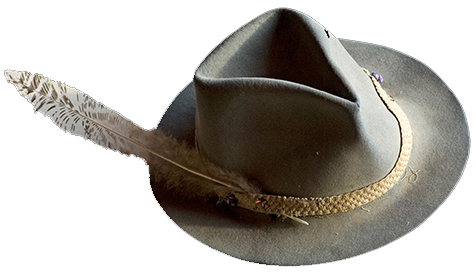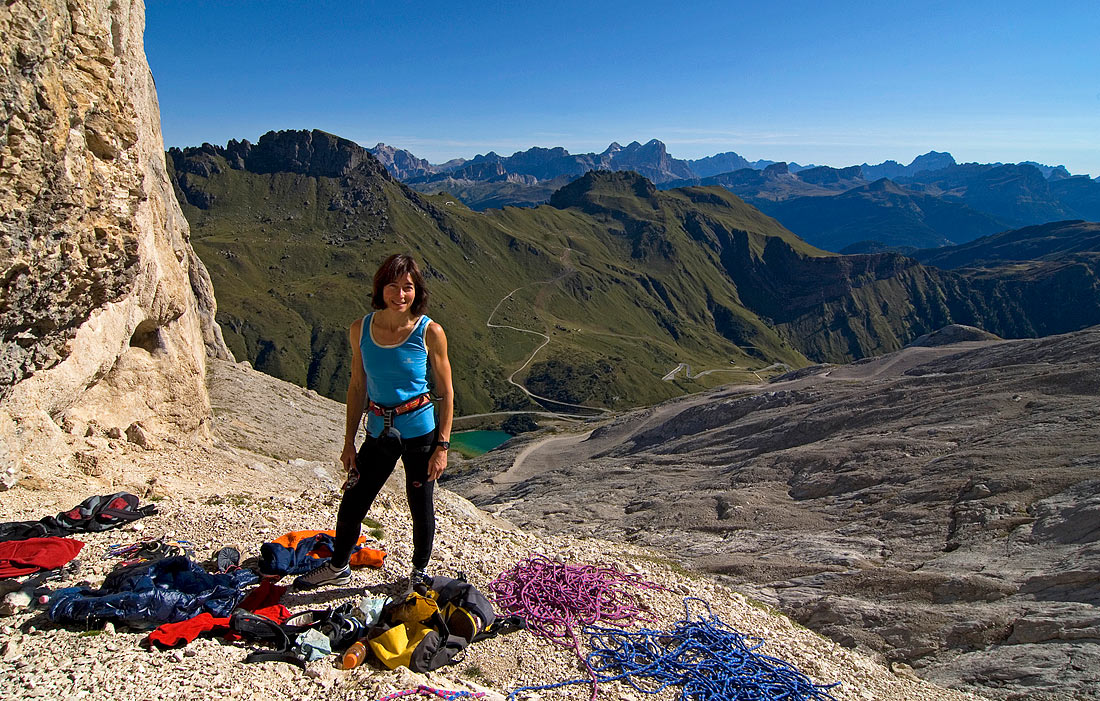 The end of adventure means
the end of freedom